Animal Print Shoes and How to Wear Them
Firstly, abandon all the preconceptions that animal prints might be a little too wild for you. Cast aside the fears that it's hard to wear and banish the thoughts that it's overtly outlandish, because it's not. Honestly.
Animal print, particularly leopard print and snake print, is one of the easiest patterns to wear. It can be casual or dressy, and it works as well with jeans as it does with a going-out attire, and it's timeless. It's a look that just doesn't age.
Animal print has been embraced by a wide and varied range of cultural icons. From Hollywood royalty such as Elizabeth Taylor and Jane Russell to pop legends Debbie Harry and David Bowie, first ladies Jaqueline Kennedy and Michelle Obama through to Coronation Street soap sirens Elsie Tanner and Bet Lynch.
Despite it never really going out of vogue, animal print has had a fluctuating trajectory through the years. However, no longer seen as niche, and with everyone seemingly wearing it to a greater or lesser degree, it's a look that's got way more than nine lives.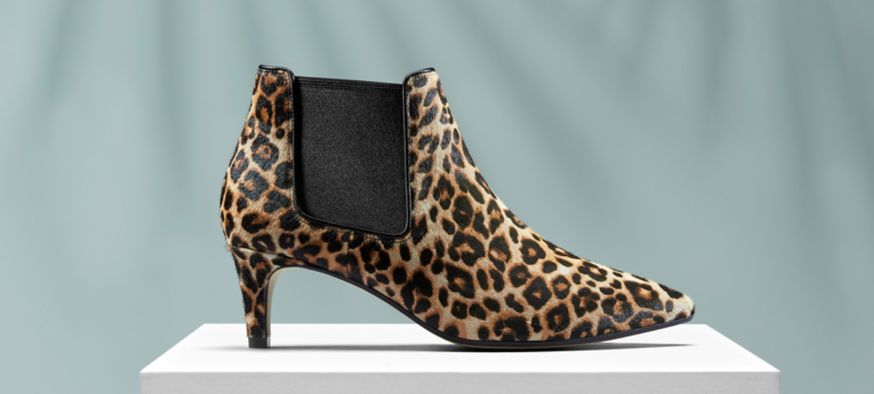 Leopard print shoes
Leopard print shoes or boots are the perfect way to access this fashion phenomenon and depending on how you wear them, they can give you just a hint of print or add extra intensity to a bolder outfit.
What to wear with leopard print shoes
One of our most fierce pairs on offer is the leopard print Desert boot, a fun take on our iconic style that's perfect for the autumn. Wear them with jeans for a look you can rock all day long.
For those of you looking for leopard print flat shoes, one of our most popular styles is the Pure Viola. With its high vamp and pony hair leather, this is the perfect transitional day-to-night style for the new season; great for work, great for nights out. And with a cushioned insole, they're the perfect pair of go-to shoes for every occasion.
If you want to really step out in style, a pair of leopard print heeled boots should be part of your night-out wardrobe. Channel your inner icon in our Laina 55 Boot 2, pairing them with black jeans for the full-on rock chick look, or with a black midi dress or skirt for a sophisticated evening look.
If you're looking for something to wear during the day, then you could go for Un Maui Band – our take on leopard print trainers. Or, for a really cool alternative that will look amazing with woolly tights when autumn inevitably arrives, our Funny Dream shoes have been given a wild make-over.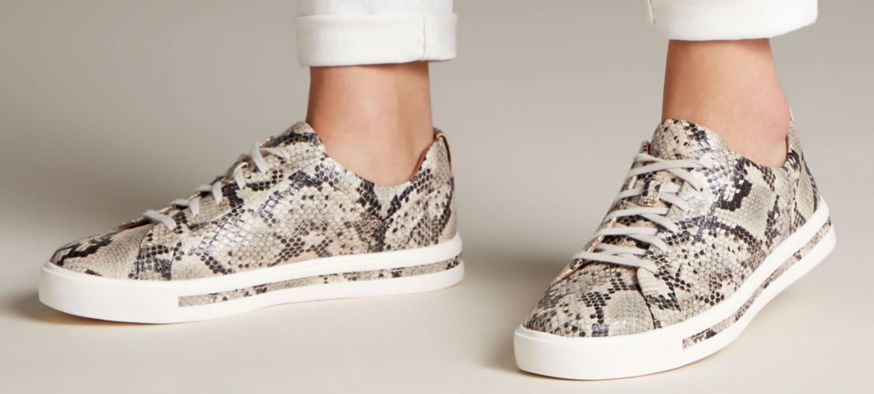 What colour goes with leopard print?
The beauty of leopard print is that it works like a neutral, meaning that it pairs with a wide variety of colours. Think of it as a wilder and more fun version of tan and pair it with emerald green, burgundy, black and white and other neutrals. And let's not forget blue jeans. Have fun with your colour combinations and experiment to find pairings that work for you.
Snake print shoes
Snake print shoes and boots are a slightly more subtle take on the trend, as the colour palettes tend to be more muted (though take note, this isn't always the case).
How to style snake print shoes
For a thoroughly versatile pick, try a pair of snake print boots. The Alcina Top are a modern twist on the Chelsea boot and will look as good with jeans and a blazer in the daytime as they do with a mini skirt and blouse at night.
If you're looking for snake print heels, the Linvale Edyth is perfect for work or smart occasions. Wear them with tailored trousers or a mid-length skirt for a stylish and sophisticated look that'll take you from the office to the bar with ease. If you're going "out out" and want to make a style statement, the Amali Jewel in yellow snake print will ensure you stand out from the crowd. Wear them with a pared-back outfit to let your shoes do the talking.
Day-to-day, you can't go wrong with a pair of flat snake print shoes, like the chic Pure Tone. They can be worn as slip-ons or as mules and look great paired with jeans or tailored trousers for a simple yet sophisticated smart-casual look.
If you want to embrace casual styling, a pair of snake print trainers like Un Maui Lace are a step in the right direction. These luxe leather lace-ups offer an athleisure look that will add instant cool to a pair of jeans or a block colour midi dress.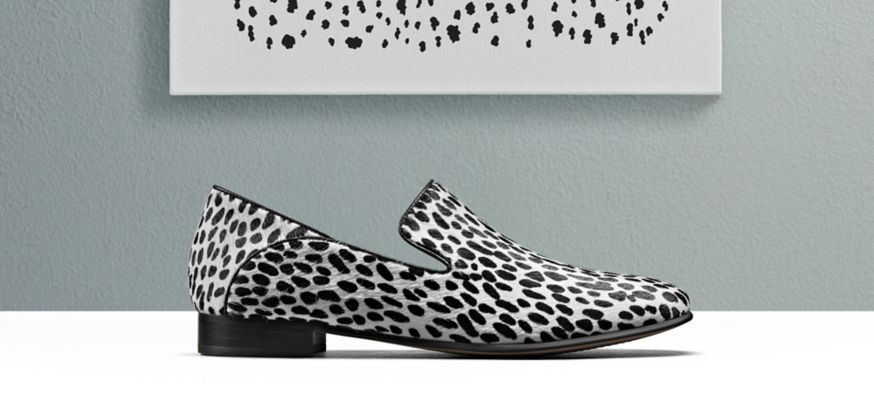 What colour goes with snake print?
Assuming that the snake print in question is in shades of grey and white, then this too can be treated as a neutral and paired with a wide range of colours. Wear it with black and white for a coherent look or contrast it with bright and bold hues like blue, orange, green, red, and pink. Quite frankly, snake print looks fabulous worn with virtually any colour.
Embrace your wild side and explore our full range of animal print shoes. As well as leopard and snake print, you'll find dalmatian print and tiger print shoes and boots, plus animal print accessories like bags and purses.
---