As the name suggests, boat shoes, or deck shoes, were originally designed to be worn by sailors as a response to the challenges faced by slippery decks on the roaring seas. In 1935, sailor Paul Sperry was inspired by the natural grip in his dog's feet, so he mimicked this by carving treads into the bottom of his shoes' rubber soles to improve traction on the deck of his ship.
Fast forward four decades to the 1970s and the boat shoe evolved into a stylish item of footwear worn across the globe. They are typically made from water-repellent materials - leather with soft rubber soles - though many styles now utilise canvas instead of leather, and though this material is not water repellent, it is quick drying.
Boat shoes have become a summer staple and can be worn with virtually anything. Read on to discover how to wear boat shoes with all your favourite outfits.
How to wear boat shoes
Boat shoes can be worn to casual or smart casual affair in spring and summer. They're incredibly versatile and suitable for wear at the beach, to a garden party or even at the office if there's a smart casual dress code. Bear in mind that boat shoes won't pass for a formal shoe.
They look their best when the main details - the laces and stitching around the foot - are fully on show, without being covered by trousers. As such, they typically go best with tapered trousers, cropped styles or trousers with the cuffs rolled up slightly.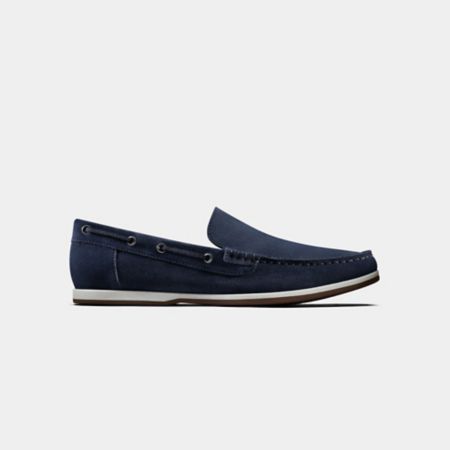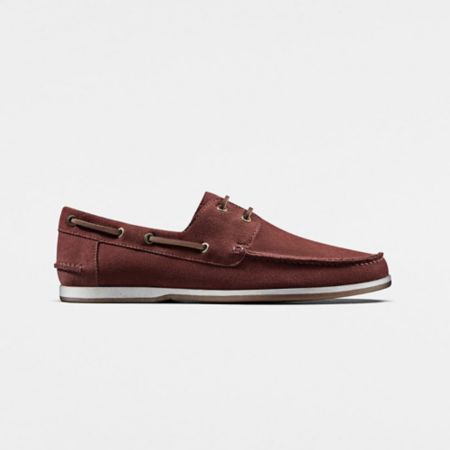 Boat shoes with socks
Wearing boat shoes with socks is controversial, with most people preferring to go bare foot. If you don't like the thought of that, wear them with invisible socks for added comfort without compromising on the overall look.
Boat shoes with jeans
Boat shoes look great with denim as part of a laid-back summer look, especially with rolled-up jeans that draw attention to the main part of your outfit.
Add a plain t-shirt or jumper, go all-out sailor with a stripy top, or embrace smart casual with a summer shirt.
Our Pickwell Sail boat shoes come in a variety of nautical colour combinations. Try a navy leather pair with white stitching for a true nod to the nautical, or for a sophisticated look, pair blue jeans with a tan leather pair.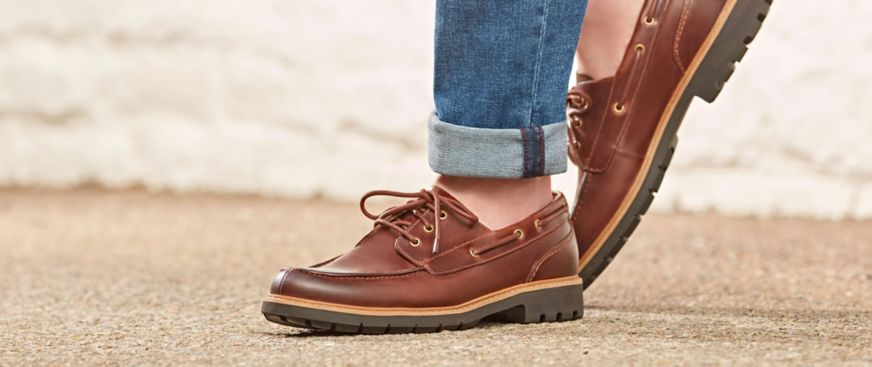 Boat shoes with chinos
The boat shoe is often associated with a preppy style, so chinos and boat shoes are quite simply a match made in heaven. This look works best when colours are contrasted - try a pair of pale beige chinos with a navy or darker brown boat shoe, such as the Batcombe Sail. You could even wear a brightly coloured pair of chinos with a more neutral coloured shoe.
Complete the preppy look with a polo shirt for the daytime or a long-sleeved shirt for the evening.
Boat shoes with shorts
Boat shoes are a perfect accompaniment to shorts as they can dress the look up in a way that trainers cannot.
Pair denim or cargo shorts with a casual pair of boat shoes such as the Orson Harbour, or opt for a tailored pair of shorts and choose a pair of Pickwell Sail boat shoes in a complementary or contrasting colour.
At Clarks, we have boat shoes in suede, leather and canvas styles. Our collection offers a fresh twist on nautical styling by teaming cutting edge technology with premium materials. Explore our full range of boat shoes and sail away in style.
---