White shoes and how to wear them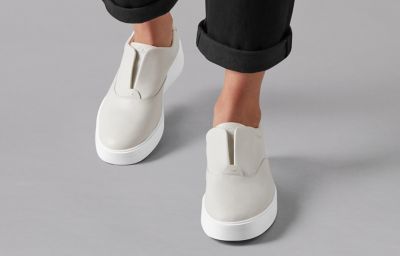 Classic and versatile yet misunderstood, white shoes don't get the love they deserve. However, these transitional beauties are fast becoming one of the coolest colour choices for summer.
From chunky white trainers to classic white sliders, this renaissance has been on the rise for years. With an 87% increase in people searching the internet for white shoes and how to wear them in the past four years1, it's a trend that allows freedom to mix and match outfits without the headache of a shoe clash.
"From chunky white trainers to simple white sliders, this renaissance has been on the rise for years"
Women's White Trainers
From celebs, co-workers and teens to hospital staff, dancers and athletes, the trusty block white trainer has become a staple in all walks of life. Not only are they super comfortable, but they also go with pretty much any outfit. And with the rise of athleisure, they're also considered a smart fashion choice.
Perfect with jeans, midi skirts, trousers and even dresses, treat them well and they will be your best friend. And when we say treat them well, knowing how to keep them looking sparkly white is key!
The beautiful simplicity of Hero Step is hard to beat. Soft white leather and a matching rubber sole give amazing flexibility as well as durability. Pair with chinos for a laidback summer look or with a pretty floral midi dress for that summer garden party.
The Seven, from our iconic Originals collection, are perfect for those wanting something less sporty and more sophisticated . Featuring a full moccasin construction made from unlined white suede, these contemporary shoes should go straight on your wish list.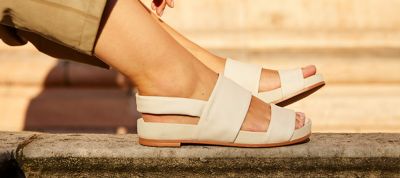 White Sandals
If trainers aren't your thing, then set your feet free in a pair of white sandals. Beautiful for the sunniest of summer days, white sandals are a wardrobe staple.
A simple pair of white flat sandals such as the Pure Strap will go with virtually anything, while a pair of white heeled sandals will elevate your outfit for that perfect summer night look. If you like to wear heels in the daytime, then white wedge sandals are your perfect companion as they offer a little extra coverage and support as you go about your day.
White Sliders
For a contemporary take on the white sandal, slip into a pair of white sliders. Wear them to the beach, in the garden or generally out and about for effortless summer style.
Clarks Tri Slide sandals provide an athleisure-inspired aesthetic with plenty of support to keep your feet comfortable all day long, while Pure Cross sandals are stylish, easy to wear and will take you from day to night.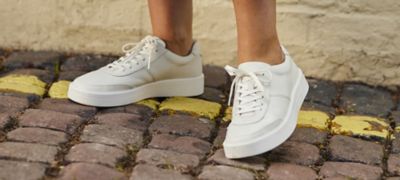 "A cupsole white trainer is a thing of effortless beauty, so the Arlo Lace from our iconic Originals cannon is perfect for those wanting something less sporty"
White Flat Shoes
While we're relatively used to wearing white trainers and white sandals, we tend to be less comfortable wearing other white shoes. However, there's nothing quite as stylish as a pair of beautiful white lace-ups or classic white loafers. They have a touch of the 1920s about them and attract attention for all the right reasons.
Our Pure Tone shoes in white leather are elegant and sophisticated, and they're also highly versatile as they can be worn as either mules or slip-ons. Simply fold down the specially-designed heel piece, and you have two shoes in one.
For something even smarter and incredibly chic, try a pair of Pure Voila Trim, crafted from snake leather with a metal trim.
Fall in love with white shoes! Explore our range of women's trainers and sandals and find a pair to elevate your summer wardrobe.
Sources
Google Keyword Planner data
---