What to wear on a first date: Men's edition
First impressions really do count, which is why we want to look great on a first date. Knowing what to wear is an age-old dilemma, but you can't go wrong by picking a first date outfit that makes you feel confident ̶ and if you feel good, you'll look good. Wear something you feel comfortable in and that expresses your own unique style.
Read on for tips on what to wear on a first date, and the best shoes to pair with your date night outfit.
Can you wear jeans on a first date?
Whether jeans are appropriate for a first date is a common question, but as long as they fit well they're probably one of the most versatile and easy-to-wear items of clothing that you can choose for a date. You can dress up a smart pair of black skinny jeans for an evening date or wear your favourite blue jeans for a daytime date.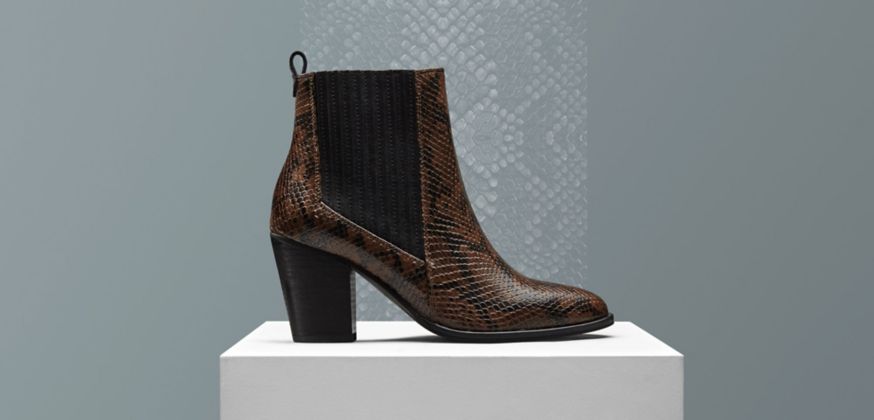 What to wear on a first date in winter
Winter is a time to layer up, so if you're meeting for a daytime date, start with a pair of jeans and layer a cosy knitted jumper over a long-sleeved top. That way you can adjust your outfit depending on how warm it is once you're out. Choose your favourite winter coat to wear over the top, pull on a scarf for extra warmth, and team your winter date outfit with a pair of ankle boots.
For an evening date in the winter, you can get more sophisticated. Choose a classic dress that shows off your best features and makes you feel confident, accessorise with jewellery and pair with comfortable and elegant court shoes. Alternatively you could stick with the 'jeans and a nice top' look and add a smart leather jacket and a pair of heeled boots or knee-high boots. Find out more about how to wear knee-high boots.
What to wear on a first date in summer
In summer, your first date might be a daytime picnic or an al fresco lunch. If the sun is out, wear your favourite summer dress with a pretty pair of sandals. Midi or maxi dresses are great options for a first date, with their romantic, relaxed feel. Alternatively, a pair of jeans with a light blouse and a stylish pair of trainers works well if you're going to be strolling in a park or through town. Carry a light jacket with you in case the temperature drops or in case the date goes well and continues into the evening.
For a first date on a summer's evening, the classic 'jeans and a nice top' combination is failsafe. Wear yours with a smart pair of leather loafers or a comfortable yet chic pair of heels. Make the most of the warm weather with an open-toe heel like the Deva Mae or a slingback pair like the Laina 55 Sling.
What is the best colour to wear on a first date?
There's no real answer to the question of the best colour to wear on a first date, as it will depend entirely on the colour palette you tend to wear and what suits you and makes you feel confident. For an evening date, black is a popular choice as it is versatile and incredibly flattering, but if you tend to wear brighter and bolder colours then showcase your style and personality by wearing what you truly love.
What shoes should you wear on a date?
The shoes you choose to wear on a first date will largely depend on the season, the time of day, the first-date activity and your outfit choice. Importantly, you want shoes you feel comfortable in, as you don't want to be struggling to walk or in pain from poorly fitting shoes or heels that are too high.
Flat shoes like sandals, trainers or loafers work well for a daytime date, while in the evening you may enjoy the confidence boost that a pair of heels gives you. Find out how to choose the best heel height and the best heels for your foot shape.
Ready to start planning your first date outfit? Browse our full collection of heels and boots to find the perfect pair to accompany your look.